Almost 70% of houses in the US have a garage attached or as an outbuilding. Many of them are badly insulated which makes those garages super hot in summers, and deadly cold in winters. Almost every garage in America gets extremely hot in summer. Let's talk about how to keep a comfortable temperature in your garage during hot summers.
You will love having an air conditioner if you spend a lot of time in your garage and you don't like feeling hot. Besides cooling yourself, garage air conditioners can also be used to cool:
Your cars. It doesn't really matter if your garage is one-car, two-car, three-car, or four-car. The rusting process can be accelerated if you keep your car at high temperatures for long periods. This can cause damage to the paint and other important car parts.
Things that you store in our garage. For example, paints, some sort of mechanic tools, and glues do not handle the heat. Cool air in the garage can help extend the life of your stored items.
Paint and gas can be volatile and are more vulnerable to high temperatures in garages. Higher temperatures can cause volatile organic compounds (VOCs) to evaporate much faster and produce an unpleasant smell that could be dangerous for your health. Garage air conditioners that are best for keeping VOCs under control and the temperature at bay can be the best.
Before you buy an AC unit for your garage, let's first determine if you actually need one. You might not even need one. We'll also help you determine what to do in your garage before purchasing a garage air conditioner.
Do you really need an Air Conditioner in Your Garage?
An air conditioner is not necessary just because you have an attached garage. Consider the following points and you will understand if you need an air conditioner for your garage
They are:
How warm is your garage? It's no secret that LA garages are hotter than those in Seattle. Are your garages exposed to direct sunlight or shade? If your garage is heated to more than 100 degrees each day during the summer, an air conditioner will be necessary.
How long can you stay in your garage? If the garage is being used as a place to park your car, an air conditioner is unnecessary. AC is a great idea if your garage is used as a workspace, a place to do DIY projects, or just a place for a few drinks with friends.
What length can high summer temperatures stay? For northern garages with shorter summers, an AC unit is not essential. If you live in the south, where summers last for at least 3-5 months, an AC unit is a good investment.
Garage gym air conditioner. Some people could use the garage as a place to exercise. It can get very hot. An air conditioner is a smart investment for your garage gym.
These are the things you should consider before purchasing an air conditioner for your garage. If you decide that an air conditioner is the right choice, continue reading.
We've created a complete buying guide. This guide will help you choose the right air conditioner for your garage. I understand that this choice may be challenging for some people, as there are many options available, including portable air conditioners, window units, mini-split air ductless, and evaporative cooling systems.
This article will discuss all types of air conditioners that can be used in garages, how to choose the right air conditioner for cooling your garage, and how to save your money by increasing the efficiency of the air conditioning process.
By the end of this article, you will know everything you need to know about garage air conditioning. Let's find an air conditioner that will meet all your needs.
Find Your Best Garage Air Conditioner
You need an additional AC unit for your garage because the central air conditioning system doesn't usually cover the garage. In fact, I strongly recommend that you never attach your garage to the central conditioning system as it may result in poisoned air with car exhausts come from the garage into your house and will overall decrease the efficiency of your HVAC system.
Let's take a look at the different types of garage air conditioners that you can use.
Types of air conditioners
Garage Ductless Mini Split Air Conditioner
I believe the mini-split AC unit is the perfect garage air conditioner. They are ductless, unlike central AC units, and can provide up to 30,000 BTUs cooling effect (by some certain products). They are a good solution for even the largest 4-car garages.
Mini-split air conditioners have been deemed piece-of-the-art in air cooling and conditioning. The conditioners are made up of two parts. One is mounted permanently on the inside wall and the other on the exterior wall. A small hole in the wall connects two halves of the unit. The condensate drain is used to transport water from the garage's indoor unit.
A mini-split air conditioner can keep a garage cool in hot weather. It is very energy-efficient and has high BTU power.
Advantages of Mini-Split Garage Air Conditioner:
Efficiency. This is the most efficient type of air conditioner, with the highest SEER/EER ratings. They are also highly efficient in terms of energy, making them more affordable to run and reducing your carbon footprint.
Size. Mini-split air conditioners come in many sizes. Mini-split air conditioners are more versatile, so you can choose the right size for your garage to maximize efficiency.
Heating and cooling: Mini split air conditioners can produce both hot and cold air. They can provide 15,000 BTU cooling effect in summer and 12,000 BOTU heating effect winter. You can use them all year round, so you can keep your garage cool in summer and warm in winter.
The Disadvantages of Garage Mini-Split Air Conditioner:
Price. If you have a tight budget right now, it would be a good idea to choose another type of AC. However, in a long run, you will obviously win much more savings. Mini-splits are extremely energy efficient and have a long life span (up to 20+ years).
Installation. Mini-split air conditioners usually come with an installation kit. However, it is important to be familiar with how to run electricity and mount the components of the system properly. You can hire an HVAC technician if you are not confident with the process.
Portable air conditioner for garage
A portable air conditioner is a valid option for garages because it doesn't need to be permanently installed and can be set it up very quickly.
The Advantages of Portable Air Conditioner: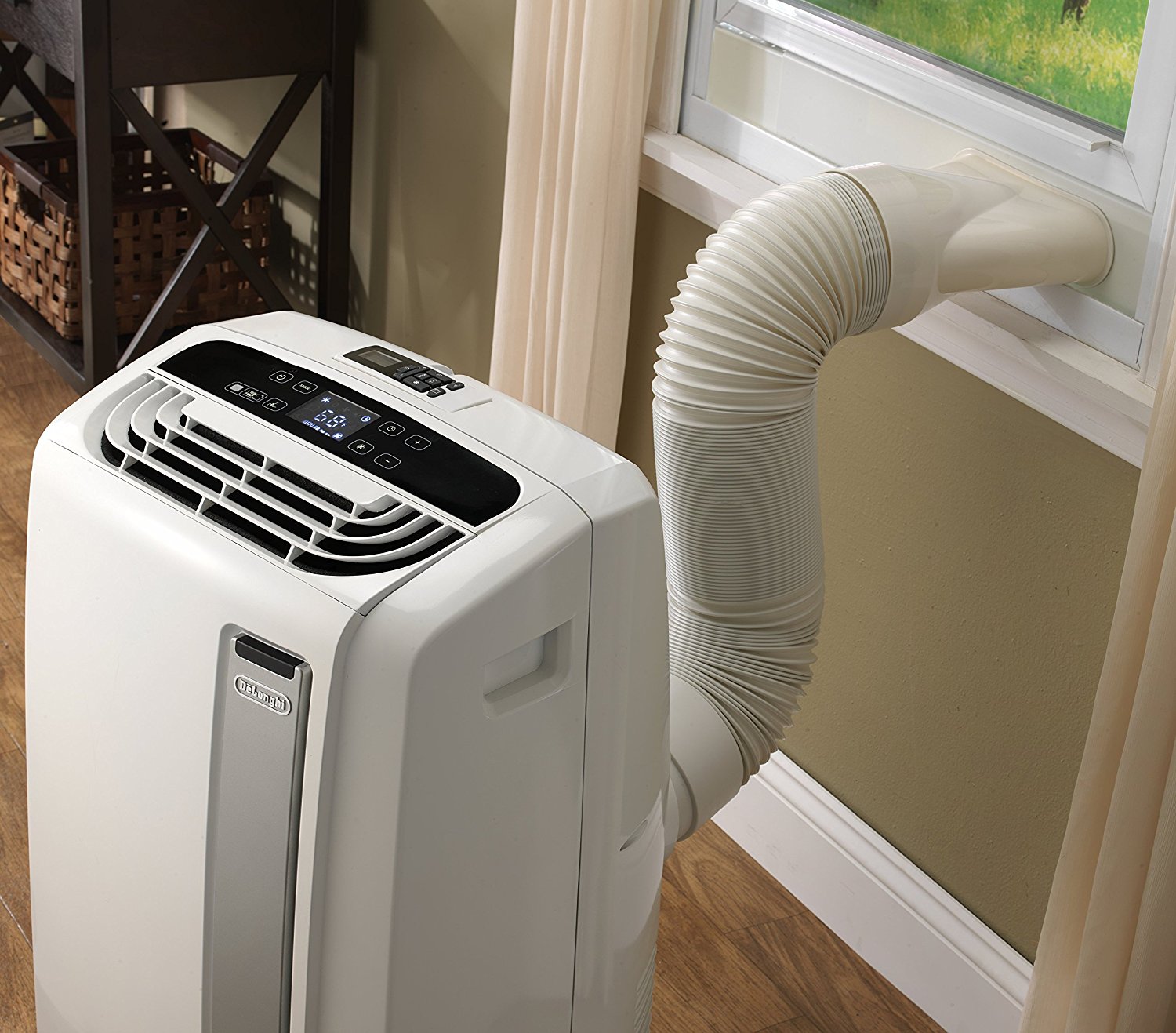 Affordability. The portable air conditioners can be bought at a very affordable price and they don't require permanent installation, so they don't come with hidden costs.
Portability. This type of air conditioner can be installed anywhere provided it is properly vented. Venting can be done through a window, the gap between the garage door and the floor, or through a hole in the wall. These units can be moved around the garage or room, from room to room once they have been vented. This allows you to direct airflow towards a particular area, instead of cooling the whole garage.
The Disadvantages of Portable Air Conditioner:
Space. Although portable air conditioners can be quite small, they take up some floor space. This is something that you should consider if you have a small garage.
Safety. Portable air conditioners can be bumped into if they are placed on the ground. This may result in more frequent damage to the air conditioner compared to the window or wall-mounted units.
Ventilation of portable AC units in garages is usually done through the windows. A window sealing kit can be used to cover any windows that are damaged by the exhaust hose being pulled.
These units can provide cooling effects of up to 15,000 BTU, which is sufficient for a larger 2-car garage. A 12,000 BTU unit with a high EER rating (energy efficiency), can be found for as low as $400.
These units are ideal for garage gym air conditioners because they are portable and easy to install.
Window Air Conditioner
Window air conditioners need to be installed in a window. They're great at cooling smaller or medium size garages.
The Advantages of Window Air Conditioner for a Garage:
Cheap. Window air conditioners are usually cheaper than those that need permanent installation.
Energy efficient.Not as efficient as mini-split air conditioners, but there are plenty Energy Star certified window air conditioners out there. Your window unit will use the least amount of energy possible while in the cooling process.
Have multiple features. Window AC's come with lots of different features like remote control, timers, speeds, and modes. Some even offer Wi-Fi capabilities.
The Disadvantages of Window Air Conditioner for a Garage:
Installation. Many garages don't have a window, so it's impossible to install a window air conditioner.
Window Size. If you have windows in your garage, you might find they're too small for an air conditioner. Most window ACs are designed to work with regular windows. This can make finding an air conditioner for your specific window size a tough task. Good 20-inch garage windows are required for ACs. They must also be 15+ inches high.
Window AC units are as efficient as portable AC units and they can also be as powerful. They are generally cheaper than portable AC units.
The window air conditioner is actually the most affordable garage air conditioner. However, this option is not suitable for some garages.
Evaporative Cooler
Evaporative coolers are great for lowering the garage's temperature without having to be connected to a window. The pads absorb cold water through an internal reservoir, or continuous supply, and then evaporate it into the air to cool it.
The Advantages of Evaporative Coolers for Garages
Energy-Efficient. Evaporative air cooling is the most efficient way to cool a garage. They use approximately 75% less energy per unit than other types of air conditioners, making them great for reducing your carbon footprint and keeping your energy costs under control.
Cleaner air. An evaporative cooler's pads can be used as filters to capture dust particles and other airborne allergens. They are a great choice for anyone who has allergies or just wants cool and clean air.
The disadvantages of Evaporative Coolers for Garages
Humid Environments. They don't work well in humid environments. The system won't function properly if there is too much humidity in the air. The machine could also be affected by corrosion or condensation if it is used in humid conditions.
Maintenance. Salt and mineral deposits can build up over time and will need to be removed.
Not cold enough. Evaporative coolers cannot remove hot air. Evaporative coolers can be described as elaborate fans that produce a cooling effect of 0 BTU (in fact they increase the temperature in an insulated space)
Blower Fan
A blower fan is an ideal choice if you are looking for simplicity and portability. These fans can be simply plugged into an electrical outlet to blow cool air.
The advantages of Garage Blower Fans:
Portable. These units are even more portable than portable air conditioners. A blower fan do not need to be installed permanently and can be used wherever you like. You just need to plug it in and turn it on.
Targeted cooling. A blower fan can be placed at a specific angle to cool down certain areas better than any other air conditioner. You can set the fan up in front of you if you are working on a project or just want to have cool air at all times.
The disadvantages of Garage Blower Fans:
Space. Blower fans same as portable air conditioners take up space on the floor or table.
Lack of features. Blower fans lack many features as other AC units have.
Learn More Features of a Garage Air Conditioner
Size and BTUs
It would be foolish to heat a large space with a small heater. The same applies to cooling. A smaller air conditioner will consume more energy and take longer to cool your garage. It's therefore important to consider the size of your unit.
BTUs, or British Thermal Units, are used to measure the cooling power of an air conditioner.
Many people are confused by BTUs. However, it is important to understand that the more BTUs you have, the more space your air conditioner can cool.
Remember that air can fill an entire room. You should also consider the garage's height, along with its width and length. A smaller garage will require a greater number of BTUs if it has a ceiling that is higher than average.
We have included below a handy BTU size guide to help you choose the right size air conditioner for your garage.
Noise
A garage air conditioner is more noisy than a home conditioner. t is important to keep the garage air conditioner as quiet as possible. Too much noise can disturb your peace and cause neighbors to complain.
Air conditioners are designed to be as silent as possible. If you want a quieter unit, we recommend the mini-split or evaporative air conditioner. These units do not make the loud roaring sounds of larger ACs.
Portability
Also, think about how you will move your air conditioner around your garage, or store away when it is not in use. These options are available with a portable AC conditioner.
A garage air conditioner that is permanently installed would be a good choice if you don't care about any of those things.
Energy use
Different types of ACs use different amounts of energy, so it is important to consider the following: electricity bills and the impact on the environment.
If you care about the reduction of your carbon footprint and energy costs, then select air conditioners with high SEER and EER ratings. These ratings indicate that the air conditioner consumes less energy to operate.
In general, portable ACs tend to consume the most energy. Mini-split air conditioners require the least electricity to cool a garage.
Your air conditioner's size also affects your energy consumption. Higher BTUs use more energy. An AC unit too small to fit in a garage will mean that it will need to be run for longer periods of energy.
Maintenance
Garage air conditioners, like all appliances, need to be maintained properly to ensure they last for many years. It's worth considering the ease of maintenance.
Air conditioners often have easy-to-remove filters that can be cleaned as needed. Many air conditioners have built-in indicators that will tell you when your air conditioner needs cleaning. They also automatically turn off once they are too much dirty.
Window air conditioners and portable air conditioners are the easiest to clean. Mini-split air conditioners are more difficult to clean as they can be placed high on the wall. Good that these units do not require frequent maintenance thanks to their efficiency.
Garage AC BTU Size Guide
The number of BTUs a garage air conditioner should have is the first thing to consider when purchasing a new unit. You'll waste money and energy if you purchase one that is too large. However, an 8,000 BTU unit won't adequately cool a garage with four cars.
Big garage, big BTUs. Small garage, small number of BTUs. It's easy enough.
You should at the very least be able to estimate what size AC you would need for your garage. The EPA recommends that you use 20 BTUs per square foot of living space to save energy. This is a good guideline for sizing AC units for garages as well.
But I would recommend counting the 30 BTUs per square foot when determining garage air conditioner capacity. This is due to insulation variations, higher garage ceilings, and sun exposure.
| | |
| --- | --- |
| Garage size | BTUs |
| 1-car garage | 7,000 |
| 2-cars garage | 13,000 |
| 3-cars garage | 18,000 |
| 4-cars garage | 24,000 |
How many BTUs your garage requires will be directly related to the type of air conditioner you choose.
Although the above guide is intended to be simple, there are some additional things to consider when properly sizing garage air conditioners.
Insulation You should add insulation to your garage if it doesn't already have it. Read more about it in the next paragraph.
Position Add 1,000 to 2,000 BTUs to your garage if it faces west or south.
Climate Add another 1000 BTUs if you locate in an area with hot summers.
Getting your garage ready for air conditioning
Now let's make sure your garage is ready for air conditioning.
Check the insulation
If the garage is leaking air, even the best garage conditioner will not be worth the effort. Standard room air conditioners don't have this problem. However, garages tend to have a lot more holes than standard home conditioners.
Air leakage can occur through the garage door, uninsulated walls, or even through a window.
Make sure your garage is well sealed before you purchase and turn on the air conditioner. Any rather large hole in the wall of your garage may cause cooled-down air to leak out. And then hot air from outside will replace it eventually. Even a single hole in the wall may heat up the temperature inside the garage. So be prepared to improve the insulation before you buy the air conditioner.
Provide proper ventilation
To make the air conditioner work properly, you must provide proper ventilation of hot air out of the garage.
Ventilation through a window is the most commonly used method. A garage door may also be an option. An exhaust hose can be installed through a window using a special window seal kit. This covers the exhaust hose and prevents cool air from leaking.
Garage windows are the most suitable way (apart from a hole in a wall) to vent hot air out of the garage. However, those who don't own a garage window may immediately ask "How can I use an air conditioner in a garage without windows?"
The best solution is to drill a hole in your wall by yourself and vent the air conditioner through the wall. This is what you will need to do for a mini-split air conditioner. Or use a garage door for ventilation – you will need to make a small opening and insulate the garage door around the opening.
To summarize, use a window, garage door opening, or drill a hole in your garage wall.
These are some guidelines to help you choose the right AC for your garage:
What will you do? A mini-split through the wall garage is a good option if you don't have windows.
What number of BTUs do you require? Garages with large volumes of air need to be cooled by portable air conditioners.
Important: Energy efficiency. An energy-efficient unit can save you up to $100 per year if you use your AC a lot. Mini-splits are the most efficient (highest SEER rating and EER) for garages.
Window AC units are only possible if there is a large enough window and a small garage.
How to Install a Garage Air Conditioner
First of all, it is the type of AC that you buy that will determine how to install it. The type of AC you purchase will determine if the garage air conditioner is going to be permanently mounted or if it will be used as a storage unit.
For through-the-wall and window air conditioners, the unit will be placed in the frame or window.
The guard will attach to the bottom sill and allow you to screw the frame in place. You can then use the foam or rubber insulation strips that come with the AC to seal any areas where air might be able leak. You are ready to go!
A permanent mount is better for portable units. It will protect your work and keep them away from potential damage. A semi-permanent mount is not possible for portable air conditioners. You can make a stand for larger models that are on wheels. A shelf or table mount works well for smaller air conditioners. They should be elevated from the ground but close enough to open windows or doors to allow the exhaust hose to flow. It is important to route your drain line if you have a portable AC.
Other cooling options for garage
These tips will help cool a garage if you're not ready to use an AC unit.
Use ceiling fans. This is a great tip to increase AC conditioner's efficiency as well. Airflow is a key factor in air conditioner efficiency. The AC won't need to work as hard if the air is flowing freely. The moving air, if you don't have an AC, will keep the garage temperature a bit lower by moving the air around.
Make sure that there is adequate ventilation. Airflow is vital, but it must be possible to exhaust the garage. You can vent the garage by opening a window or door. This will allow fresher air to enter while removing older, more heated air from the outside.
Insulation. We have already mentioned that proper insulation will keep the temperature in the room regulated.
Ice in front of your fans. You can make your space feel cooler by placing a bucket of ice before your fans.
Conclusion
There are many options for cooling your garage. And you should select the one that suits the current needs and the characteristics of your garage. I chose a mini-split AC for my own garage as this is the most efficient type of air conditioner.
---
People also ask questions (FAQs)
Let's address some common questions regarding AC units for garages.
How often should garage air conditioners be cleaned?

Garage ACs are more likely to need maintenance than other ACs. Regular cleaning is essential because they are more susceptible to dirt, dust and debris from the garage, car exhaust and large open doors. The units should be cleaned at least once a week. Fan blades, if any, should also be cleaned and the filters changed or cleaned. Each month, the exhaust vents should be checked and cleaned.
What's the difference between an AC and an evaporative cooler?

An air conditioner is different from an evaporative cooler in that it uses chemicals, oils and refrigerants to cool down the air. Evaporative coolers only use water. Another difference is that air conditioning removes humidity from surrounding air, while evaporative cools (or swamp coolers) increase humidity levels.
Why is it not a good idea to connect your garage with a central air conditioner system?

There are many reasons why you should not connect your central air conditioner to your garage. The cost of adding ductwork from the AC unit into the garage could run into thousands of US dollars. Access to the ceiling and walls between the garage/air conditioner will also be required.
A garage without adequate insulation will result in significant air leakage, which can cause your monthly energy bill to skyrocket. The central air conditioner will have a harder time cooling a space that isn't adequately cooled due to the large space. This will cause the house to be too warm while the garage will be more comfortable.
Is it possible to vent an AC inside my garage?

Although you can vent your air conditioner inside the garage, this is not recommended. To be most efficient, the air conditioner must vent the exhaust air outside. The hot air from the garage will only increase the temperature and humidity, which is what the AC is trying to eliminate. The AC's lifespan will be cut if the compressor is made to work harder.
What is the cost of installing an air conditioner in your garage?

The type of air conditioner, garage insulation, professional labor costs, and additional items required to properly install the unit will all impact the installation costs. The average cost of professional installation for a window or through the walls unit is less than $1,000. The cost of insulation and drywall can be more expensive for a permanent solution.